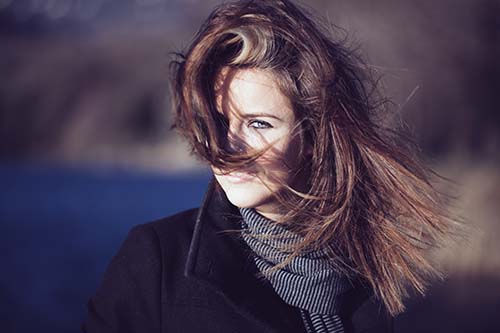 If you move to a dry desert or a place where extremely cold winters make skin dry and flaky, you'll quickly find that your makeup doesn't look or feel the same as it used to. That's because dryer climates will wick moisture away from your skin more quickly, making it more difficult for your skin to stay moisturized.
Here's what you need to change for dryer climates:
It's all about the prep work.
Avoid harsh facial cleansers that strip your skin (and take a look at our next tip, instead). Be sure to find a high-quality moisturizer to keep your skin hydrated, and in case of emergency, try wearing a creamy facial mask for a bit. Also, be sure to use products with an SPF or to apply sunscreen as a part of your daily routine. Whether it's a desert or the mountains, don't forget to protect your skin from the sun.
Try a new cleanser.
This is going to sound like some crazy, natural, homeopathic idea that you feel hesitant to try, but we're asking you to trust us! So here goes nothing: start using honey as your facial cleanser. As our friends at Bustle pointed out, honey has been used in ointments and other skin-related applications for thousands of years for its numerous beneficial properties. It actually kills all of the bad stuff on your skin that causes breakouts, while drawing in moisture as a natural humectant. Just use it as you would any other facial cleanser! Be sure to read the label and make sure that your bottle of sweetness is really all honey (yes, surprisingly, people will sell you "honey" that isn't really natural honey).
Moisturize everything.

From a moisturizing tinted lip balm to a moisturizing foundation or tinted moisturizer, there's definitely a theme for the types of products you should be using — can you guess what it is? Avoid powder-based makeups and use liquids, creams, or oil-based stick makeups instead. You may also want to consider CC or BB tinted moisturizers that infuse your skin with much-needed vitamins.
Humidifier
If you try all our other tips and still find yourself with a dry, rough face in the morning, keep a humidifier in your bedroom at night. This will give your skin a little break from the dry climate.
"Drink lots of water!" Just like mama told you.
Water hydrates your entire body, including your skin. Drinking lots of water will not only keep you generally healthy in a dry climate, it will ensure that your skin is getting the hydration it needs.
Use special products.
If an occasion calls for a special, dewy glow (which is darn near impossible to attain if you're in a super dry climate), try products that create it for you. For example, illuminating primers, like Tom Ford Illuminating Primer, and other products can create that moisturized glow.