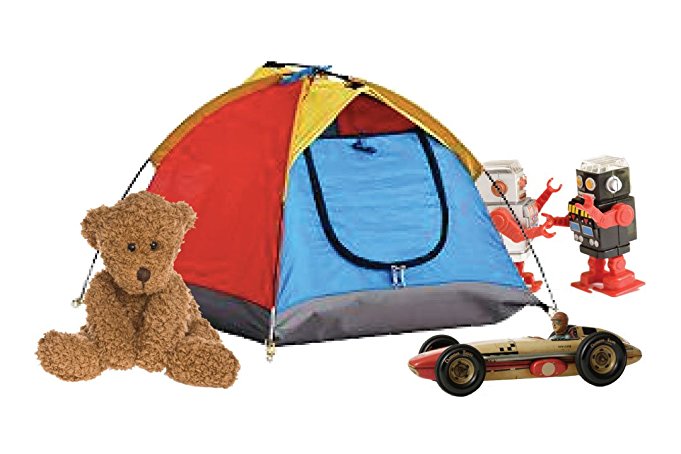 2 – Dollar Store Surprises
When you're traveling with your kids, the odds are they're going to be distracted by all the new sights and sounds. So, apart from comforting items like a paci, the standard toys probably won't cut it for long. New and interesting toys and books are the keys to keeping kids occupied.
Take a spin through the Dollar Store to grab some new toys, books, and coloring activities. Even a pack of post-it notes could keep your child entertained as they redecorate your airplane row, or you play checkers together on notes placed on a tray table. If you don't have time to go to the Dollar Store, don't worry — you can order the fun pack we put together for you from Amazon!
If you're going to be staying in a hotel or with family and sharing a bedroom with your little one, buy a small tent for your child to sleep in. You can place a small mattress or sleeping bag inside or set it on a bed — either way the kids will probably love the novelty of sleeping in a tent. This little tent creates a space that helps block distractions and offers clear bedtime boundaries for your child. Any small tent will do, and it may even get your little excited for bedtime.
4 – Pack Strategically
You will be tempted to cram all of the essentials in one giant bag for the whole plane ride … but will that giant bag fit under the seat? Remember that your largest bag will be overhead, and out of easy reach for portions of the flight. Be sure to put some essentials, like diapers and wipes, either in the bags that will be at your feet or in the seat-back pocket in front of you. Go ahead and put plastic bags inside of each individual diaper before you pack them, and be sure to keep at least a travel size pack of wipes within easy reach.