Here are some quick links to get you to the best books for your child:
Home Is Where … Series
by Rebekah Sanderlin and Melissa Davis
This is a series that military children can identify with on a deeper level. In the pages of each book, they'll see uniforms and sights that are familiar to them based on the branch of service their parent is a part of.
For Preschoolers
Although these books are great for early readers, they can also help you prepare your child for some of the activities and emotions that may come up during a move. At this age, it may be difficult for children to identify and express their emotions; books can be a wonderful tool to help both you and your child decode emotions.
by Teresa Martin (Author), Whitney Martin (Author)

by Stan Berenstain (Author), Jan Berenstain (Author)

by Mercer Mayer (Author, Illustrator)

by Constance W. McGeorge (Author), Mary Whyte (Illustrator)

For Elementary Aged Children
Once children start school and begin to gain independence, their friends occupy an increasingly important part of their lives. These books are ideal for elementary reading levels, as well as some of the emotions that may emerge at this age.
by Audrey Penn Illustrated by Barbara Leonard Gibson

by Jessica Harper (Author), G. Brian Karas (Illustrator)

by Stephen Krensky (Author), Larry Di Fiori (Illustrator), Larry Difiori (Illustrator)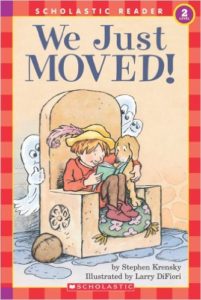 For Pre-Teens and Teens
Psychological studies have proven that journaling can help people process emotions and manage stress, making the guided journal below a great gift for your pre-teen or teen who is preparing to move. Other books in this section depict stories that kids in this age group will be able to identify with.
by Sara Elizabeth Boehm (Author), Ashley Boehm (Designer)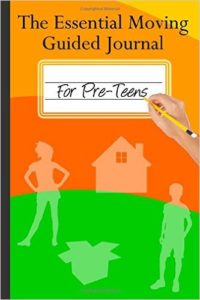 For When It's Hard to Say Goodbye
There are just some friends and places that are harder to leave than others. The books below touch on a couple of the emotions children might be struggling with: sadness and anger.
by Judith Viorst (Author), Ray Cruz (Author), Robin Preiss Glasser (Illustrator)

For Making New Friends
Sometimes making friends is downright hard when you're the new kid on the block. Neville is a fun story that makes the task of meeting new kids less intimidating for shy or anxious children.
By Norton Juster. Illustrated by G. Brian Karas

For Moving to a New Country
The book below is intended for younger children, but if you have an older child or teen, you can apply this book's lessons by researching your destination together. Talk about what you expect to be similar after you move and what you expect to be different. Help your older child find things about your new home to get excited about (like visiting a landmark or experiencing a unique element of the culture).
Moving to new cities and possibly new countries is simply a part of the military lifestyle. As adults, we typically find our own ways to cope with the process and are often too busy to dwell on the changes we're experiencing. For kids, this process can be a little more difficult. That's why we've put together a list of books for children, preteens, and teens who are undergoing a PCS.