Read last week's devotional, here.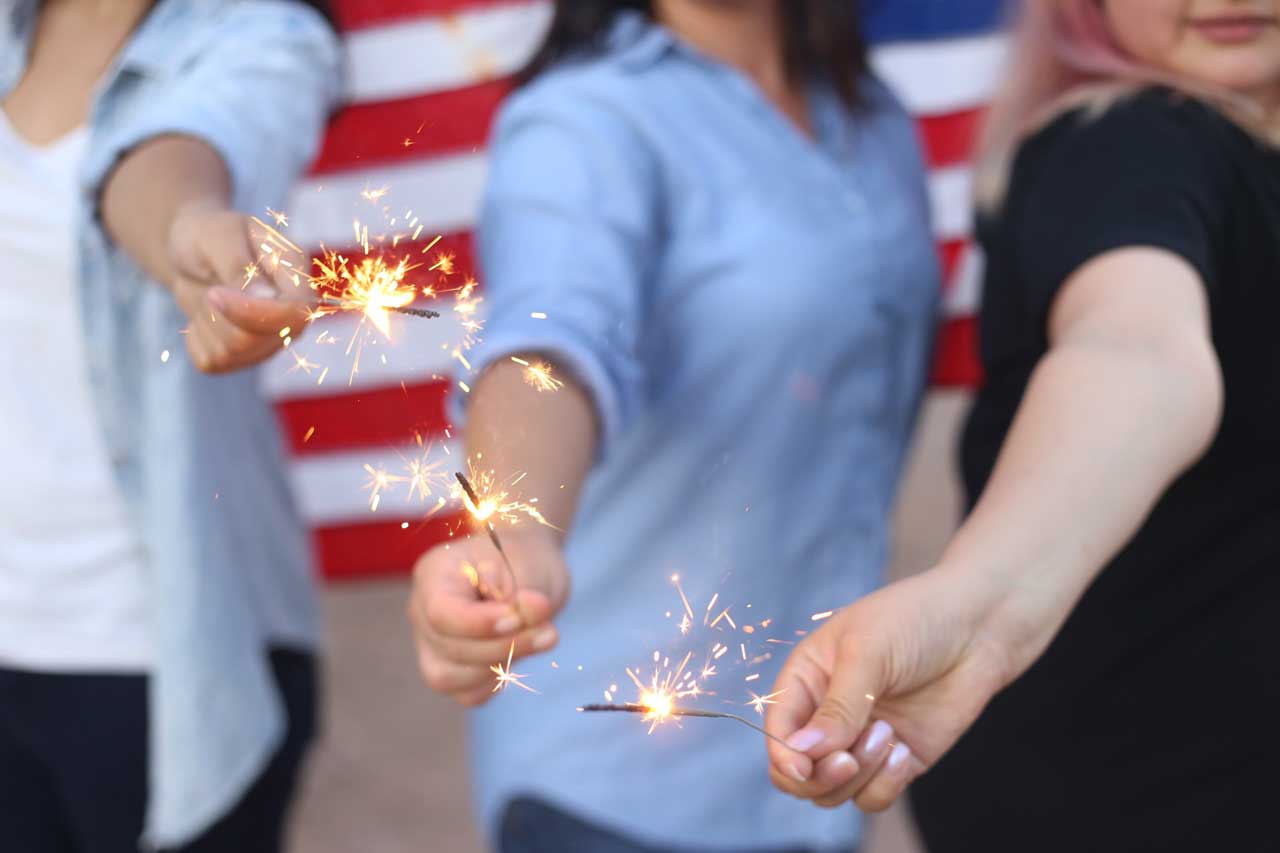 I still remember the first spouse I met at our first long-term assignment. At the time, we were staying in a TLF at Luke AFB in Arizona. Like many TLFs, it was a beige duplex relic from base housing's past, but it was a welcome refuge from the summer heat.
I was completely new to military life — the acronyms, the training, the facilities were all foreign to me. And having just made two moves in a year, I had few military spouse friends. After my husband left for his first day of work, I twiddled my thumbs, briefly flipped through the limited channels on the ancient TV, and searched for houses online.
The day felt empty. The excitement and adventure of this new life faded quickly without my husband there.
Then a woman knocked at my door. It seemed strange that anyone would know I was there when I didn't know anyone other than my husband for a thousand miles around. When I answered, she was warm and friendly, despite my deer-in-the-headlights surprise. It was my husband's commander's wife. She tracked me down to give me a welcome packet and to invite me to the spouse coffee later that week.
It was a simple exchange, but the warmth and generosity were just my first taste of the amazing military spouse community. In time, I learned that this is a community brimming over with grace.
I learned that this is a community brimming over with grace.
Click To Tweet
We have our flaws, but overall, we're walking similar paths and facing unique challenges that few people fully understand. The singularity of our lifestyle draws us together, and we extend grace to each other regularly, just as we are meant to.
Grace wasn't designed only for us to receive, though we do, as we've learned in recent weeks. It was designed to extend through us as we strive to love others as Christ loved us.
Extending Christ's grace requires intentional effort. Even in a community where our empathy for each other makes us more willing friends, grace should be a conscious action in everything we do. Here are three ways we should put grace into action in our community and the world:
Use your gifts for God.
"As each has received a gift, use it to serve one another, as good stewards of God's varied grace: whoever speaks, as one who speaks oracles of God; whoever serves, as one who serves by the strength that God supplies — in order that in everything God may be glorified through Jesus Christ. To him belong glory and dominion forever and ever. Amen" (1 Peter 4:10-11 ESV).
Christ equipped "the saints for the work of ministry, for building up the body of Christ" through the unique gifts He has given each of us (Ephesians 4:4-16). We were created to do God's work (Ephesians 2:8-10), and we do that when we obediently use our talents, time, and blessings for God's purposes. You could use your gift for cooking to help others who need meals during difficult times of loss. If you are gifted with an outgoing personality, reach out to the new spouse in the room and make her feel welcome. Your gifts will be as unique as you are, but there's always a way to put them into service for others and God.
Be generous.
"For they gave according to their means, as I can testify, and beyond their means, of their own accord, begging us earnestly for the favor of taking part in the relief of the saints— and this, not as we expected, but they gave themselves first to the Lord and then by the will of God to us. … But as you excel in everything — in faith, in speech, in knowledge, in all earnestness, and in our love for you — see that you excel in this act of grace also. I say this not as a command, but to prove by the earnestness of others that your love also is genuine" (2 Corinthians 8:3-8 ESV). This passage talks not only about financial giving, but also offering support in other ways. Although the Corinthian church was poor, its members voluntarily gave varied support to the advancement of God's kingdom.
A key word here is "voluntarily." When we receive grace (and really accept it), it inspires generosity in our actions. Generosity is a trait that exists in abundance in the military spouse community. But sometimes, when we're tired or worn down, it's also easy to withdraw into our own little worlds. Whether it's your time, energy, or financial abundance that you feel called to share, don't withhold it, even when you feel worn down. Instead, continue in obedience to God, knowing that the grace extended to you will give you energy and motivation you need to persist.
When we withhold grace from others, we also withhold it from ourselves.
Have you ever felt hurt by another military spouse? Some degree of drama seems inevitable when you're dealing with a group predominately made up of women. But no matter what has happened, we're called to forgive. Forgiveness isn't based on feeling like the conflict is resolved. It isn't just for relationships we deem worthy of salvaging. It should be given as freely as it was given to us. And when we don't strive to truly forgive others in our hearts, we place a barrier between us and God.
"Therefore the kingdom of heaven may be compared to a king who wished to settle accounts with his servants. When he began to settle, one was brought to him who owed him ten thousand talents. And since he could not pay, his master ordered him to be sold, with his wife and children and all that he had, and payment to be made. So the servant fell on his knees, imploring him, 'Have patience with me, and I will pay you everything.' And out of pity for him, the master of that servant released him and forgave him the debt. But when that same servant went out, he found one of his fellow servants who owed him a hundred denarii, and seizing him, he began to choke him, saying, 'Pay what you owe.' So his fellow servant fell down and pleaded with him, 'Have patience with me, and I will pay you.' He refused and went and put him in prison until he should pay the debt. When his fellow servants saw what had taken place, they were greatly distressed, and they went and reported to their master all that had taken place. Then his master summoned him and said to him, 'You wicked servant! I forgave you all that debt because you pleaded with me. And should not you have had mercy on your fellow servant, as I had mercy on you?' And in anger his master delivered him to the jailers, until he should pay all his debt. So also my heavenly Father will do to every one of you, if you do not forgive your brother from your heart" (Matthew 18:23-35 ESV).
Forgiveness isn't always easy, but it is the very essence of grace. Praying is a good first step when forgiveness feels difficult because it isn't something that always comes naturally to us.
As military spouses who must repeatedly rebuild communities, thousands of miles from family, we depend on each other. Infusing grace into our relationships with everyone we meet will make this military life infinitely easier because we benefit on both the giving and receiving ends. As a community, with the unique opportunity to impact people around the world, our grace is powerful and important. How can you offer more grace to those around you?
Questions:
In what ways have people shown you unmerited grace, in using their gifts to serve you? In being generous to you? In forgiving you? What effects did it bring about personally or within the community?
Are you generous with your time, energy, and resources? If not, what does that indicate about your belief/trust (or lack of) in God?
Challenge:
Gifts: Read about spiritual gifts, and ask God to reveal to you what your gifts are. Ask Him to help you think of ways to serve with them or that He would present opportunities to use them for service. The readings at the beginning of this week will help you work through this challenge. This website can also help explain some of the different gifts identified in scripture: https://www.gotquestions.org/spiritual-gifts-list.html.
Remember, we should use our gifts out of gratitude for how God has dealt with us, not for our own pride or self-satisfaction!
Unforgiveness: Jesus is clear that this is a very serious issue and has spiritual ramifications. Who are you struggling to forgive? Notice that I said struggling. It is a struggle. Forgiveness is a process, but are you willing to commit to it as an act of faith in God? This week, pray each day for the person you struggle to forgive. Pray for their wellbeing and for good things for them. Pray that God works in their lives to show them Himself and that they would fall in love with Him. This practice will give you compassion for them which will make it easier for you to forgive them.