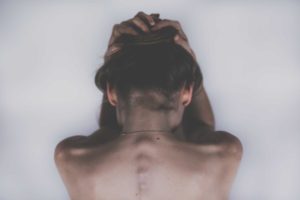 We all see them — the perfect women on social media, killing it at those Pinterest crafts, reading to their kids nine times a day, all while working a full time job, being their kids' soccer coaches, and making adorable owls out of almonds on top of their kids' oatmeal bowls. They seem perfect. They have the bodies you want, wonderfully perky and perfectly sized boobs, and kids who started talking at 3 months old (and now speak three languages in kindergarten).
But let me share a little secret with you. In all of the ways that her life makes her seem like she's "enough," there's something missing. She's not enough. And get this (though I'm sure you're already beating yourself up over it): you aren't either.
But too often, we stop at that realization. With guilt, we accept the reality of not being "enough" for our roles as mothers, wives, daughters, sisters, friends, and professionals in our culture. We think that the fake lives people lead on social media are how our lives should look. We sicken ourselves pursuing that vision, only to find that we always come up short. Mom guilt haunts us. Career sacrifices leave us feeling like sell-outs.
One day you manage to take a shower before the kids wake up, cook breakfast, get the kids to school on time, and have fun snacks and activities ready for them afterward. You even manage to accomplish a respectable portion of your to-do list during the day. But the next day, you swing like a stuntman into the drop-off line (which is empty since you're so late), wild-eyed with Cheerios stuck in your hair, and get next to nothing accomplished at home or work and almost forget to take the kids to soccer practice.
And for some reason, society has convinced us that it's not OK to be a real person. That you're only an acceptable adult on the perfect days (definitely not the wild-eyed Cheerio days). That the you God imagined and lovingly created with your entire lifetime in mind should be something that you're ashamed of.
But God knows you're not enough and certainly not enough by the lunacy of our culture's standards. Your "not-enough-ness" shouldn't leave you feeling guilty. In all of the ways you think you fail to give your children the lives they deserve, all of the moments when you lose your patience, all of the moments when you give your kids the "bad" snacks because you forgot to go to the grocery store — God sees a beautiful creation through Christ's sacrifice. In every way that you believe you're a failure, you are believing a lie.
From the moment Adam and Eve fell, perfection has been beyond reach. You will always come up short — not because God has some cruel sense of humor and kept half the eggs out of your basket — but because He wants to be a part of your life. Because He wants a relationship with you and your husband and children. Because He wants space to show love to all of you.
Every time you fail, you give God the chance to show up. You give Him a chance to show you mercy. You create space in your heart to experience gratitude for Christ's sacrifice. No matter how cracked and broken you feel, you are the perfect vessel for His grace. Your cracks and gaps and lego-sized holes make room in your life for a loving Father who desperately desires a relationship with you. You may be cracked but you are not crushed (2 Corinthians 4:7, ESV).
You were created to be a living example of God's grace and mercy to your children. You were created to experience and reflect His strength and love in all of the moments where He gets to come to the rescue. You are beautifully imperfect. You aren't enough. But you are forgiven. And the desire in your heart to be enough is a holy whisper from the Spirit — so don't mistake the world's approval for being enough. You'll never be enough by their standards because they never have and never will love you like Jesus.
When Jesus died, all of your not-enough-ness was forgiven. You became something new. Something not of this world.
So, maybe it's time to forgive yourself. Maybe it's time to strive to be the right kind of enough and let Christ do the rest.
"So to keep me from becoming conceited because of the surpassing greatness of the revelations, a thorn was given me in the flesh, a messenger of Satan to harass me, to keep me from becoming conceited. Three times I pleaded with the Lord about this, that it should leave me. But he said to me, 'My grace is sufficient for you, for my power is made perfect in weakness.' Therefore I will boast all the more gladly of my weaknesses, so that the power of Christ may rest upon me. For the sake of Christ, then, I am content with weaknesses, insults, hardships, persecutions, and calamities. For when I am weak, then I am strong" (2 Corinthians 12:7-10, ESV).