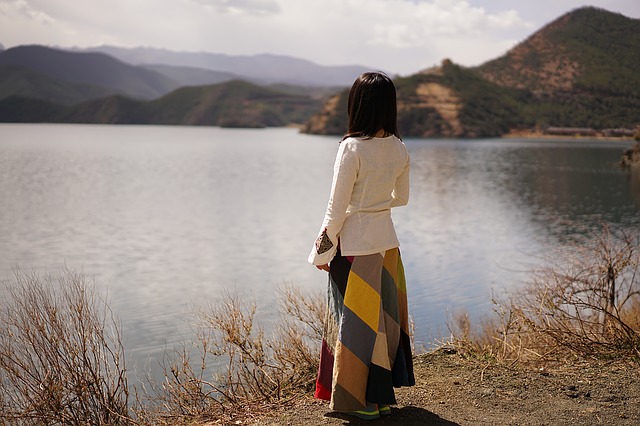 If I had to guess what you're doing right now, I am positive that one of the millions of things you're juggling is waiting. Waiting for your spouse's PCS orders. Waiting for a TDY or deployment be over. Waiting for some type of military exercise to end so that your hubby goes back to his usual schedule. Waiting for your kids in the school pickup line. Waiting for the National Anthem to stop playing so you can drive off the base/post you're on.
Waiting is the only certain thing about military life. And once whatever we're waiting for arrives, we wait some more for something else. Non-military people in our lives give up on understanding the meaning of it all, and they eventually stop asking questions like, "Do you know when (insert pretty much anything here)?" Because the answer is a million times "no" for every "yes."
"Hurry up and wait" is pretty much the song of our people.
The Bible also talks a lot about waiting. The words, "wait, waits, waiting, waited," appear over 130 times throughout the Bible (in the ESV version). Abraham waited for God's promise, though he would never see it fulfilled in his lifetime (Genesis 15:1-6). Sarah waited for a child, though she grew old before she conceived (Genesis 18:1-15). The Israelites waited to be rescued from Egypt and then to enter the Promised Land (and then for many other things).
Ultimately, the experience of waiting is essential to spiritual growth. It teaches us indispensable skills for a Christ-focused life, centers our trust on the One who ultimately delivers us, and magnifies our experience of God's faithfulness.
God's Promises for Your Waiting
Since waiting is such a defining element of both Christian and military life, God's promises for those who wait on Him should sink deeply into our hearts as military spouses. His promises should stir us to focus our gaze on Him as we wait and bring us comfort for the long days ahead.
He promises to reward and bless our faithfulness.
"Wait for the LORD and keep his way, and He will exalt you to inherit the land; you will look on when the wicked are cut off" (Psalms 37:34, ESV).
"Therefore the LORD waits to be gracious to you, and therefore He exalts Himself to show mercy to you. For the LORD is a God of justice; blessed are all those who wait for Him" (Isaiah 30:18, ESV).
"The Lord is good to those who wait for Him, to the soul who seeks Him. It is good that one should wait quietly for the salvation of the Lord" (Lamentations 3:25-26, ESV).
He promises to give us what we need to endure.
"Even youths shall faint and be weary, and young men shall fall exhausted; but they who wait for the Lord shall renew their strength; they shall mount up with wings like eagles; they shall run and not be weary; they shall walk and not faint" (Isaiah 40:30-31, ESV).
He promises to hear us when speak to Him.
"But as for me, I will look to the LORD; I will wait for the God of my salvation; my God will hear me" (Micah 7:7, ESV).
God's Waiting, Too
The waiting we do for relatively mundane things seems annoying at best. But it gives us a glimpse of God's desire for us.
"But do not overlook this one fact, beloved, that with the Lord one day is as a thousand years, and a thousand years as one day. The Lord is not slow to fulfill His promise as some count slowness, but is patient toward you, not wishing that any should perish, but that all should reach repentance" (2 Peter 3:8-9, ESV).
It's not easy for us to wait, especially when we're looking forward to something. But we only wait a few months to find out about our spouse's orders, while God's been waiting all this time (and will continue to wait) for as many people to turn their hearts to Him as possible. Talk about waiting. Talk about love.
When we think about that love, every circumstance of waiting becomes a spiritual classroom. Next week, we'll dive into the biblical lessons we can practice as we wait in our daily lives and how that spiritual growth impacts our relationship with God. But those lessons aren't as meaningful if we don't approach them with a full understanding of God's promises and purpose, so spend this week praying and thinking about why we're waiting and how God loves us while we're doing it.
Want to get our devotionals right in your inbox so that you never miss a week? Subscribe here! 
Questions:
What are you waiting for right now? Which of God's promises is most significant to you in your current circumstances?
How does your attitude toward and experience of waiting change in light of God's promises?
Challenge:
Read Deuteronomy chapter 8.
In this chapter, Moses is reminding the Israelites of why God permitted them to be brought up from Egypt, and to wander in the wilderness for 40 years before allowing them to enter into the land He promised them.
Although these verses are directed toward ancient Israelites, we can draw a lot of encouragement from this passage to help us understand why God makes us wait.
As you read this chapter, pay special attention to the reasons Moses says God allowed the people to wander. Underline each reason he gives, and check it off of the list below when you find it:
"To humble you"
"To test you to know what was in your heart"
"To see if you would keep His commandments."
"That He might make you know that man does not live by bread alone, but lives by every word that comes from the mouth of the Lord"
"Know then in your heart that, as a man disciplines his son, the Lord your God disciplines you."
So that the Israelites would not "forget the Lord your God who brought you up out of the land of Egypt, out of the house of slavery…"
"You shall remember the Lord your God, for it is He who gives you power to get wealth, that He may confirm His covenant that He swore to your fathers, as it is this day."
Now, reflect on each one. How is God challenging you in the same way when you are "waiting" in your life? How can you respond in a way that would please Him?