Read last week's devotional, here.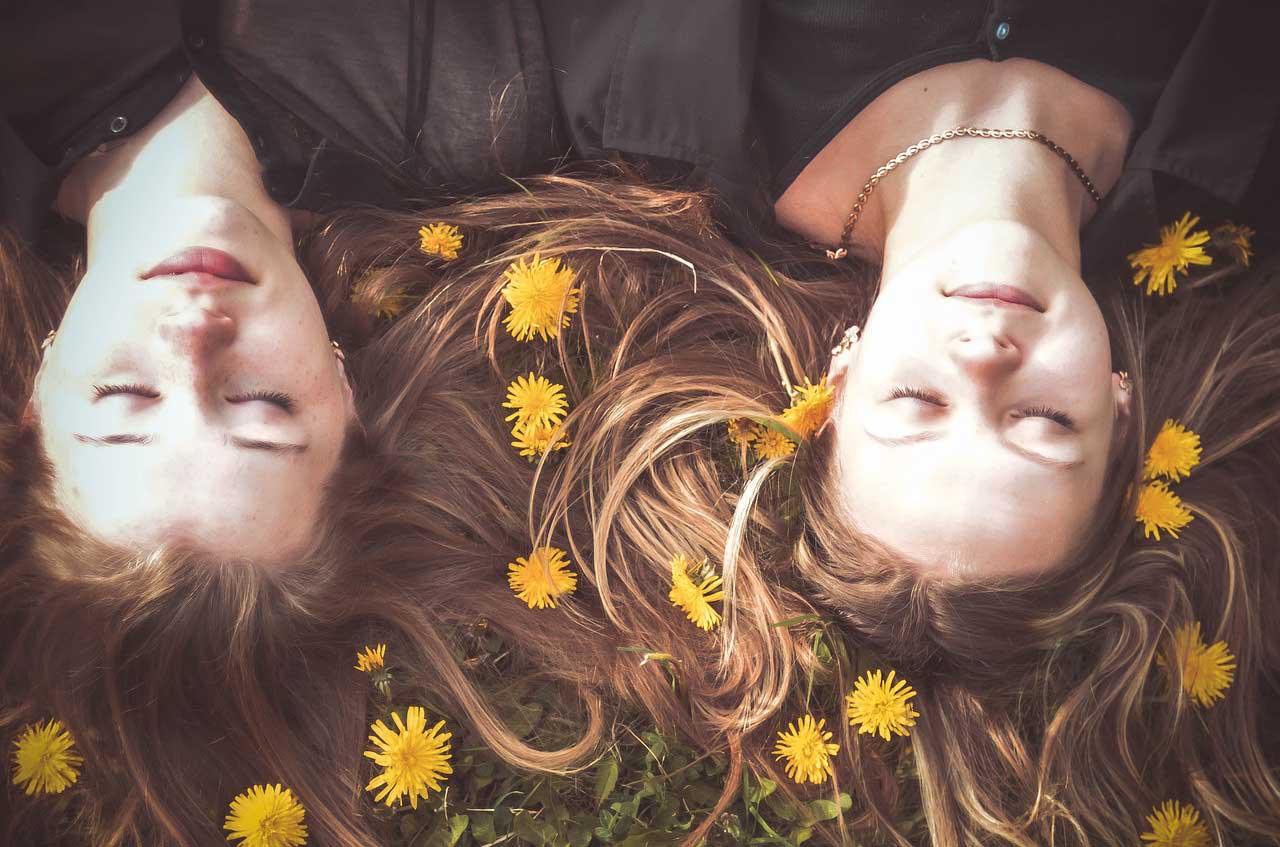 Have you heard the story of Mary and Martha in the book of Luke? It's the one where Martha feverishly worked to be a great hostess for Jesus, while her sister, Mary, sat at His feet and listened. If you know the story, you know that Jesus gently corrected Martha when she complained about her sister being lazy — He told her it was better to listen to Him than to have all of her work done.
In that story, we get a glimpse of the sisters' personalities. I always imagine Martha as the type-A achiever — the sister who got into med school and had the "perfect" life. And I always see Mary as the less successful (by worldly standards), artsy sister whom everyone always loved. We can tell from each sister's actions around Jesus that they felt comfortable and close to Him. One was comfortable enough to complain to Him, and the other was at ease enough to do absolutely none of the usual tasks of hospitality. To me, that means they probably knew Him. He was probably a part of their community.
We see these sisters again in John, and this time, it's confirmed that Jesus loved and knew them and their brother Lazarus (John 11:5). In fact, when Jesus heard that Lazarus was dying He decided to go to him, despite His disciples' desire to go elsewhere and the threat of being stoned (John 11:7-8). It's important to note that even before He arrived, Jesus knew Lazarus would die and that He would "wake" him up (John 11:11-13).
When Jesus arrived, Lazarus had indeed been dead for four days. Martha and Mary were mourning. Martha was, as you might expect, grief-stricken, but went out and met Jesus. But Mary, the sister who was known to sit at Jesus' feet was so distraught that she didn't go out to meet Him at first — she didn't even know He'd arrived. That tells us a great deal about her emotional state at the time. When she does see Jesus, this happens:
"Now when Mary came to where Jesus was and saw Him, she fell at His feet, saying to Him, 'Lord, if you had been here, my brother would not have died.' When Jesus saw her weeping, and the Jews who had come with her also weeping, He was deeply moved in His spirit and greatly troubled. And He said, 'Where have you laid him?' They said to him, 'Lord, come and see.' Jesus wept" (John 11:32-35 ESV).
Jesus knew He could and would raise Lazarus from the dead, but He wept with the sisters. He wept for His friend. But why? Why was He sad if He knew the outcome of the story?
He wept for the same reason a parent or a friend might weep with you when you suffer. He wept because in His love for these friends, the outcome didn't erase their present suffering. He wept because when we really love others, we empathize deeply with them in every circumstance. He wept because empathizing with the people He came to save was part of why He became human:
"For we do not have a high priest who is unable to sympathize with our weaknesses, but one who in every respect has been tempted as we are, yet without sin" (Hebrews 4:15 ESV).
Over the last few weeks, we've been unpacking what 1 Peter 4:8-10 means for God-centered communities. We've talked about loving genuinely, showing hospitality, and serving others. Interestingly, those ideas are paralleled in Romans 12:9-13. But in this passage, we see an additional facet of a God-centered community:
"Rejoice with those who rejoice, weep with those who weep" (Romans 12:15 ESV).
Jesus modeled this command for us in His life, even though He was completely sovereign over every circumstance. This command is essential in our communities both because it cultivates genuine love for others and because it is a hallmark of loving others. It cultivates genuine love because it calls us to stand in one another's shoes and to understand others on a deeper level. When we try to empathize with even the most difficult people — to understand where they're coming from — we often find that they aren't so difficult after all; we find it easier to love them. And when we genuinely love others, as Jesus loved Martha, Mary, and Lazarus, we feel their pain and rejoice in their joy.
If love is essential in our communities, as we discussed a few weeks ago, so is empathy, which both fuels and is fueled by love. For the military spouse community especially, this call to empathize is essential. For many military spouses it's even natural to empathize with other spouses. But it isn't always our first step when others approach military life differently than we do.
Military spouses are criticized for whether they stay put or go home during a deployment, whether they work or don't work, whether they refer to their husbands' ranks or not, and so much more. But the truth is that if we all stepped into another spouse's shoes, we'd see her trying to do the best she can with the same challenges we are trying to tackle, too. No one handles every challenge in military life perfectly. Most people outside of military life don't fully "get" what this lifestyle is like. That's why rejoicing and weeping with other spouses can be so powerful.
Short of Jesus Himself, few people can empathize fully with the strange glob of challenges that comprise military life better than a fellow spouse. So let's make our communities ones where we truly rejoice with those who rejoice and weep with those who weep, rather than ones where our first step is criticism. And in that empathy, let's pray that our love for each other and for God's kingdom snowballs into something that truly reflects His glory.
Want to get our devotionals right in your inbox so that you never miss a week? Subscribe here! 
Questions:
Which situations do you find it easy to empathize with others in? Which ones are more difficult for you? Why is it harder in some situations than in others?
What are some of the barriers that keep you from empathizing with others?
When you consider the great lengths Jesus went to in order to empathize with you, how does your attitude toward others change?
Challenge:
Think about someone in your life whom you consider difficult. Why do you find that person to be so difficult? How might knowing them better and looking at them with empathy change your perspective and relationship? Invite that person to coffee and try to learn more about him or her so that you can increase your empathy for him or her.
 Daily Scriptures
Follow us on Facebook, Instagram, or Twitter to see your daily verses right in your newsfeed!
Monday: John 11:5-35
Tuesday: Romans 12:9-18
Wednesday: Colossians 3:12, 2 Corinthians 1:3-4
Thursday: Isaiah 30:18, Hebrews 4:15, Lamentations 3:32
Friday: Philippians 2:1-3
Saturday: 1 Peter 3:8, 1 Corinthians 12:24-26