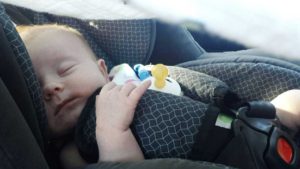 Are you PCSing across the country? Or is it just more affordable for your family to drive than it is to fly? If you're contemplating a long road trip with children, you're going to want to prepare by making a few key purchases.
Post-It Notes & Colored Pencils
Rather than bringing the typical boring art paper, bring Post-It Notes so that your children can create personal art galleries around their seats. We suggest using colored pencils, rather than markers (which dry out quickly when you aren't constantly putting the caps back on) or crayons (have you ever tried to clean a melted crayon out of your car's carpet?).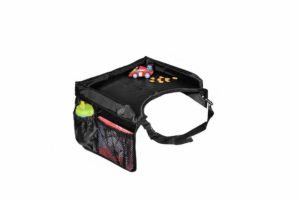 This tray is a life-saver. Not only does it keep your child's activities and snacks from rolling out of reach, it also has pockets on all sides that are perfect for storing activity supplies in easy to reach places. If you're planning to allow any messier activities (like play dough), consider bringing a small sheet pan to place on top of the tray. A sheet pan would also allow you to bring along some fun magnet games. (Here's one
that's perfect for older kiddos.)
Bicker Barrier
If you have children who are old enough to argue with each other, you're probably going to want a way to separate them at some point. You can purchase a Bicker Barrier from Etsy or you can create one that suits your car on your own.

Keeping toys and snacks within your child's reach is a no-brainer, but if you haven't purchased a backseat organizer, yet, this one is our favorite. Tons of pockets and water bottle holders make it an interesting toy in and of itself.
Screens for All!
We know that the American Academy of Pediatrics would love it if we kept screen time to just one hour each day for children. But, we're also pretty sure that if they were driving across the country with a three-year-old, they'd be breaking the rules, too. Check out our list of apps that won't turn your kid into a vegetable while you're breaking the rules.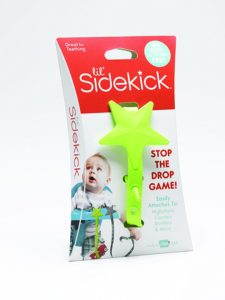 If you're traveling with toddlers, this is a must-have. This small strap allows you to attach almost any item to your child's seat, making the days of blindly grasping all over the backseat floorboard a distant (and often icky) memory.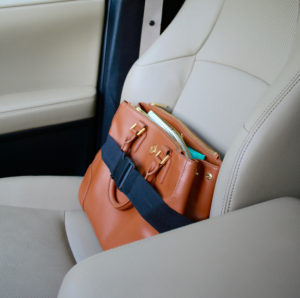 This product seems simple enough, but you're just going to have to trust us that it's way better than trying to use a seatbelt! You can leave it on your seat all the time, since the fabric doesn't disturb front-seat passengers, and if it doesn't quite encircle all of your cargo, you can unclip it to loop it through a purse handle or two. The convenience is unprecedented!
For ideas for activities to keep little hands busy during the drive, check out one of our favorite military spouse bloggers at The Stay-At-Home-Mom Survival Guide.